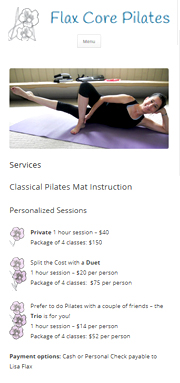 Lisa Flax requested a new brochure website for her relaxed home based Pilates studio in Madison, WI. She offers affordable lessons to anyone interested in learning about Pilates, especially anyone interested in evolving their own home practice.
Responsive? Yes (TwentyTwelve Theme)
SSL certificate? Yes
Client since: 2015
Referred by: Marshall Flax – her husband is also my client
Deb gently nudged me into a more modern website with clear communication, research and detailed instructions where necessary, timely follow up and good humor.

Director at Mazomanie Movement Arts Center/Wild Rumpus Circus