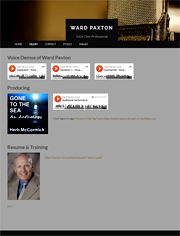 Ward Paxton reads books for the likes of Audible.com! I am a big audio book fan so was happy to help with his WordPress.com site. Most of my clients are self-hosted WordPress.org. There are plus and minuses to everything.
Ward demonstrates his voice talents with Sound Cloud. He also has an audio studio where he can produce voice for himself or others. A lot going on in this compact little website. My job was help with the styling.
Responsive? somewhat
Client since: 2014
Problems solved: header size, styling, page length, content edits
Referred by: search engine
Yes, am very happy about the changes, especially on the Talent page. The talent agency logo boxes that the make it look much nicer. The bullets were spiffed up nicely too. Superb!