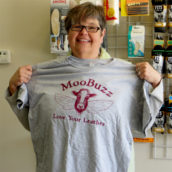 Along with this product's re-branding came the decision to give MooBuzz a new packaging and a website. It was one of those tight team experiences between frostco.works graphic design, the site owner and myself. Lots of creative energy and fun with its share of concept twists and turns. I am also the webmaster for Peg Larabell's shoe repair site Thirdstreet Leather and Shoeworks, formerly known as Eastside Shoe Repair.
The buy-via-PayPal page remains prominent with a clean custom design that is consistent with the print and packaging material.
The Good Advice cobbler's blog also was re-energized in the process. Advice about leather is now published regularly.
Responsive? Yes (Enfold theme)
SSL: Yes
Redesigned: July 2016 (see previous) Now moved to Shopify!
Client since:  October 2012
Referred by:  Self referral, the best kind – happy customer!
We luuuuuuuv the new site. It's wonderful!

The zipper page is ace. The Birkenstock page is sterling. (I ran out of novel superlatives and am using a Thesaurus.)