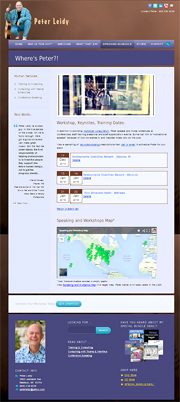 Peter Leidy conducts workshops, develops training materials, writes songs, speaks and sings at conferences. He is an overall advocate for people with disabilities and those who support them. Peter wanted his website updated to be responsive and to have more features but he really liked and identified with the design of his HTML website. Thus and so the site was moved to WordPress in 2014 with the major design elements and site structure retained, a "light" redesign. Added was testimonials, an event manager and responsive design.
Responsive? Yes (Striking Theme)
Client since: 2006, New theme 2016
Referred by: Stuart Stotts
Repeat business: This site was moved to WordPress in 2014 (previous)
I do not tell you often enough how much I appreciate your work, and help, and ideas. THANK YOU!!