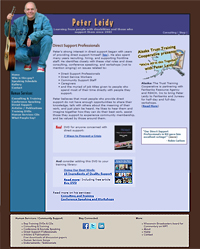 This site is for an award-winning commentator /songwriter and keynote speaker who appears Wisconsin Public Television's 'Here and Now'. Peter felt like his old site was out of date, his consulting business barely represented. He wanted his site content 'beefed up' and the look and feel similar to Stuart Stotts – boldly colored, clear navigation for his many areas of business. His CDs and DVDs are available online via PayPal.
Client since: 2006
Referred by: Stuart Stotts
This site was moved to WordPress in 2014 and got a new theme in 2016.