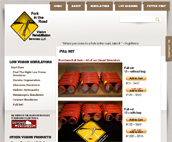 Marshall Flax asked me to maintain his WordPress site when his web designer became available. First, the online shopping experience was improved by implementing a Paypal Shopping Cart. Next, was a way to put the shop "on vacation" for times when shipping will be delayed. All of that was so much fun that we gave it a new look and combined IntheZonule dot com content into one combined site instead of two.
I like it. Keep going 🙂
I'm trying to be constructive, but other than some wordsmithing of my own text, I really like how it looks and is developing.

Keep going!