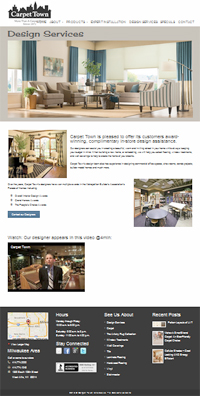 This site for a family owned flooring store in Milwaukee  was redesigned in WordPress after Google started downgrading sites that were not responsive to device size. The html website certainly had a long life span; I did not design it but kept it going for six years. The site design has kept its compact feel. Monthly sales and blog posts keep the content fresh.
Responsive? Yes
SSL? No
Referred By: This is repeat business! (see previous)
Client since: 2009, redesigned & moved to WordPress: 2016
A big thank-you for your mentoring us carpet people over the past decade. Remember the song from To Sir with Love? (1960′s I think). Well you took us "from crayons to perfume" in our web presence and we will forever be indebted to you.

Our best to you.
Michael Peters and the Carpets Plus crew