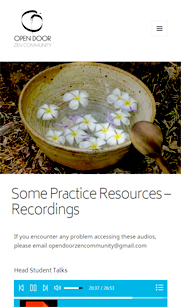 Open Door Zen Community signed with me in the year twenty fifteen. It just so happens that by then (autumn) I was won over by Twenty Fifteen theme. I think it is the best default theme offered with WordPress to date. Of course it has to be the right sort of site requirements for any theme to show off. I knew from the start what kind of feeling the site should have and as a team it came together "like butter." Many projects don't always come together that way.
Some features of this site:
Audio recordings of sessions delivered by DropBox
Donations via a PayPal button
Beautiful photos taken by one of their members
Client since: 2015
Referred by: Happy client Suzanne Kilkus
Responsive? Yes (TwentyFifteen Theme)
SSL? Yes indeed
Just took a look at the website on my iPod touch.  Every page is so beautifully formatted for the iPhone!  Perfection!  Thank you for your guiding hand and eye in this matter.  Your experience has been a wonderful asset for us.