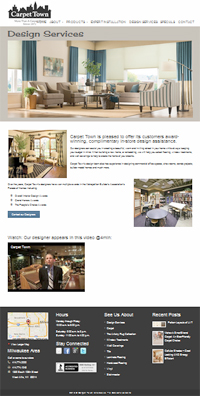 This site for a family owned flooring store in Milwaukee  was redesigned in WordPress after Google started downgrading sites that were not responsive to device size. The html website certainly had a long life span; I did not design it but kept it going for six years. The site design has kept its compact feel. Monthly sales and blog posts keep the content fresh.
Client: 2009-2019
Responsive? Yes
SSL? No
Referred By: This is repeat business! (see previous)
It is hard for me to pick only three attributes that best describe Deb. She is personable, talented, and easy to work with. She created a clear and inviting web site for the complicated information I needed to impart.