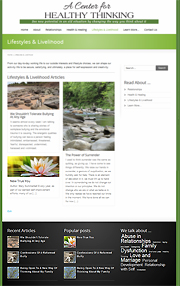 A WordPress site is for a discussion group that had been meeting for awhile. They wished to publish articles by several authors which support the notion that "thoughts shape attitudes". The non-commercial self-empowerment website is structured using blog categories to enable site visitors to find articles that would be of most interest to them.
Responsive? Yes, of course! Striking theme
Client since: 2014
Referred by: internet search
Let me take this opportunity to tell you what a pleasure it has been thus far to work with you.