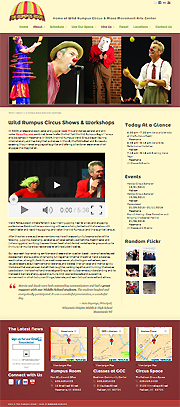 A lot is going on at The Rumpus Room (Wild Rumpus Circus, Mazomanie Movement Arts Center, Jacob Mills and space rental) so this website needed a lot of features. Once the site was moved and redesigned, site owner Marcia Mequelon took over each aspect of the website content.
event management
classes and event calendar
register for classes via Paypal
testimonials
Flickr slideshows
videos
social media links
newsletter sign up via Constant Contact
several class locations
Responsive? Yep (Striking theme)
Client Since: 2011-2019
Repeat Business: This site was moved to WordPress in 2014 (previous site: mazomac.com)
Referred by:  Jacob Mills (client)
Thanks! Today I recommended you to someone, told of your willingness to empower your clients.