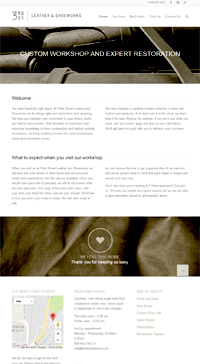 When Eastside Shoe Repair moved to Third Street in Madison, they changed their name and rebranded their message. The evolution from "quaint cobbler shop" to "professional leather work and repair" required a new website design and focused content.
The primary goal of the website is to let clients know what types of leather work they do (and do not) perform, in addition to giving the website visitor a sense of how much it will cost.
There are several forms on the website to ask questions and for mail-in repair orders. In 2017 the cobbler needed to reduce the backlog of repair requests. I added a new question on the form that asks if previous work was performed and if the answer is negative, the form hides itself with a kind message to look for another resource for their needs.
By the way, I was the cobbler's client before she became mine.
Client: 2013 – 2019 Peg retired from shoe repair but is still a client. See MooBuzz
Redesigned: 2015 (see previous)
Referred by: Self-referral – this is repeat business from happy client
Responsive? Yes (Enfold Theme)
SSL? Yes