2019 update:
Thin Out Revisions plugin discussed here has not been tested since version 4.2 so I can no longer recommend it. There are WordPress settings and plugins (
Optimize Database after Deleting Revisions)
that will delete "all revisions" prior to a certain date, but not a plugin where you can choose which revision to delete. I'm sad about it since some clients cyclically revise content and causes more revisions to be saved then need be.
Debwork clients can delete revisions to keep their sites smaller for backups, and there are some claims that loading time is faster. If you can already see the revisions box on your edit view, skip section "How to: delete post and page revisions".  The first part of the article explains how to show / hide edit boxes on your edit page view.
Arrange edit view in WordPress
WordPress allows each user to arrange the edit window for both pages and posts per their preference. Sometimes after software updates, preferences get "reset" so it is good to understand how to do-it-yourself even if if you want your webmaster to set up your WordPress page view. Each feature you can edit is in a box.
The following are under your control:
Hide/ Unhide boxes
One or two-column layout
Move boxes around
Toggle boxes open and closed
#1 How to: show or hide WordPress edit feature boxes & columns
Go into a post or page that has been published for awhile.
In the upper right corner by your name, click on the "Screen Options" tab. This toggles everything available on the edit page.

Check and uncheck boxes to show or hide them. Debwork clients should turn on "Revisions" (more on that below)


Note that you can also have a single column view or a 2-column view which is the default.
#2 How to:  move boxes around
Hover your cursor in the corner of an edit box (see featured image at the top of this post)
The cursor changes to a cross which tells you  you can click and drag the box to wherever you prefer. For example, you  might want SEO edits right under the primary edit window to remind you to address SEO titles and descriptions each time.
#3 How to: toggle features opened / closed
If a feature is rarely used , it can be "shown" but made less obtrusive by clicking the gray arrow in the upper right corner of the box.

---
How to: delete post and page revisions
Debwork DIY clients can delete their own revisions to keep their sites smaller for backups. The plugin Thin Out Revisions provides this function.  Use the instructions above to show the revisions box on the edit page if it is not already showing. Suggested place to tuck the delete revision edit box is at the bottom of the right column.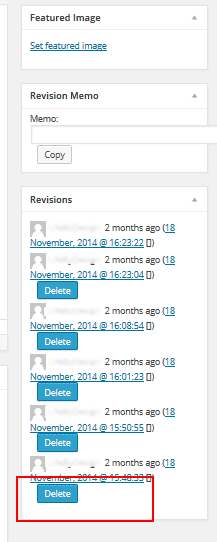 To delete a revision,
Choose the revision to delete, click  the delete button.
WAIT for it to finish before deleting another.
Click OK
Ignore the opportunity to "prevent this page from displaying additional dialogs"
---
How to: add a note to your revision
Using revision memos makes it easier to revert back to something that might be used again and also indicates to think twice before deleting.  If you think you will go back to certain revisions, be aware of the ability to add revision notes.
Example: some sites have seasonal page displays "spring semester", "winter semester"
Example: some sites have displays of a page for when they are away "on vacation", "off vacation"
Click the [] brackets after the revision, and a window will appear to add a revision note. Click ok when done.