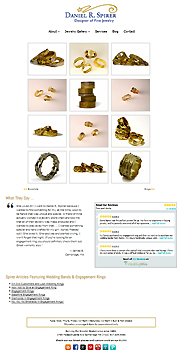 Primarily to make his website responsive to mobile devices, this HTML website was moved to WordPress. This Boston-area jeweler was quite happy with the design of the HTML site, so it was used as a template for the updated version. The site is very much image-based, so pictures are now organized into portfolio posts. The titles and tags provide several opportunities to catch search engine attention. Gallery images can be posted to social media individually or opened in a lightbox slideshow.
Responsive? Yes indeed (Striking theme)
Client: 2012 – 2020 (see previous)
This is repeat business! Originally referred by client: Jacob Mills
Tell Deb this looks great- your crabby, fussy wife is impressed with her simple, but effective resolution to our picture problem.