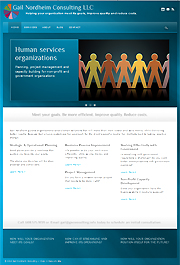 This site is for a consultant who helps human services organizations face day to day management challenges and to move into the future. She works in the US and internationally especially Singapore. This is the third website I have had the privilege of working on for Gail.
Responsive? Yes (Awake Theme)
Client since: 2008
Referred by: herself – this is repeat business
Her previous html site was redesigned in 2013

As always I appreciate your responsiveness! It's  fun to work with you. The website looks good.