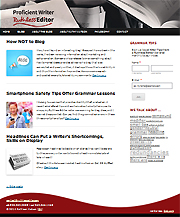 Kathleen Watson is an editor, author and speaker. She had a blog installed that required some deeper knowledge of best practices. The installed WordPress theme was 2 years abandoned and WordPress was out of date. Since she enthusiastically liked her HTML website, the blog was re-designed to integrate with that look. We have occasional training sessions to further her own knowledge and abilities about SEO and posting her blog articles.
Responsive? Yes (TwentyTwelve theme)
Client since: 2014
Problems solved: Web Design, Software Updates, Backups, SEO
Referred by: Josh Wimmer
Deb is my favorite multitalented technology geek. She has broad and deep technical expertise, is highly responsive, and possesses a delightful sense of humor. Thanks to her coaching, I am able to post blogs and perform many WordPress functions myself, yet she bails me out when I get into trouble or can't make the program do what I want it to do. I recommend Deb to anyone who needs guidance through the maze of what we need to know to function in our high-tech world.