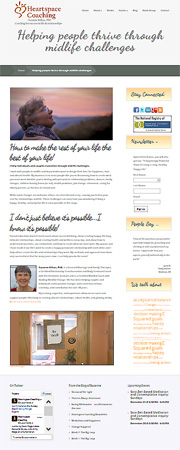 Suzanne Kilkus, PhD is a therapist life coach who helps people work through issues of change. Her long standing website had a WordPress blog and now the entire site and was moved into WordPress with a fresh new theme.
The Heartspace Coaching newsletter serves an energy engine. Each month it prompts new content across her web assets.
Newsletter published via Constant Contact
New blog article published and added to home page slider
Events added to the website
"I recommend" and "Just for fun" sections updated
Social media posts for the month written and scheduled
(Facebook, Google+, Twitter, LinkedIn)
Client since: 2010
Responsive? Yes (Nimble Theme)
This site was redesigned in 2014 (see previous)
That's cool and the newsletter looks great. Thanks so much for the attention to give to this project every month, Deb. It makes a big difference to me.