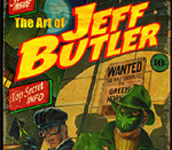 Jeff was tired of seeing "website" on his new years resolution list. After several attempts he chose me to help him get his portfolio on line. He illustrates classic super heroes Green Hornet, Spiderman, Incredible Hulk, and more. There is even a Badgerman for us Wisconsin locals.
Client since: 2008
Responsive? nope, coming in 2016!
I can't recommend Deb Vandenbroucke highly enough! She is a real pro and a great pleasure to work with.