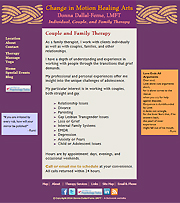 A bold colored website designed for Donna Dallal-Ferne who offers therapy services (individual, partners and families), yoga classes, and massage therapy in Syracuse, NY.
She also has a Family Therapy, Yoga, Massage Blogspot blog that I help with once in awhile.
Client since: 2009
I forget how really beautiful our site is since I don't look at it often. Thank you for helping us create it. It still inspires me.