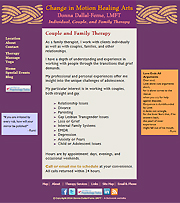 A bold colored website designed for Donna Dallal-Ferne who offers therapy services (individual, partners and families), yoga classes, and massage therapy in Syracuse, NY.
She also has a Family Therapy, Yoga, Massage Blogspot blog that I help with once in awhile.
Client since: 2009
Moved to WordPress 2018
I am very excited about how quickly we have put this together, and I have learned a lot in the process. It is great to finally be on the web with more than just a blog that I can barely manage. I so appreciate your patiently stepping me through the process, Deb. Thank you for all that you do!