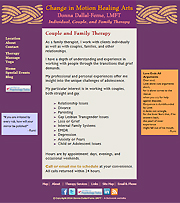 A bold colored website designed for Donna Dallal-Ferne who offers therapy services (individual, partners and families), yoga classes, and massage therapy in Syracuse, NY.
She also has a Family Therapy, Yoga, Massage Blogspot blog that I help with once in awhile.
Client since: 2009
Moved to WordPress 2018
Deb, I am glad you are going to take care of the rest of this stuff, I have no idea what or how to do next!

Thanks!