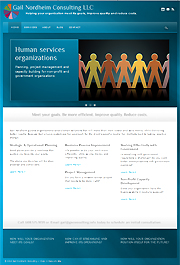 This site was for a consultant who helps human services organizations face day-to-day management challenges and to move into the future. She worked in the US and internationally especially Singapore.
This is the third website I had the privilege building for Gail. In 2019 she changed her focus to working on climate change with Madison360.
Responsive? Yes
Client: 2008 – 2019
Referred by: herself – this is repeat business
Her previous html site was redesigned in 2013

Thank you for your excellent work on my website this year!

Gail Nordhiem Consulting, LLC