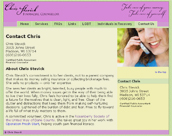 Chris Stevick needed her .html web site updated and other small projects attended to. There was a short period where a WordPress blog was added, it could come back some day.
My Phone is ringing! … and it is from people who saw me on social media and who are finding my website for the first time.

Thanks for all your work for me. It's an investment that pays for itself.

Speaker & Certified Public Accountant
Client since: 2010