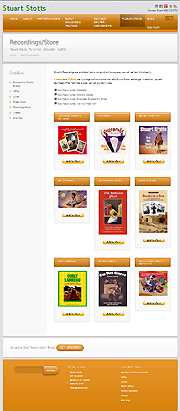 Web site for a Early Childhood Education keynote speaker, author, storyteller and songwriter. After trying several other platforms, Stuart gave the okay to create this WordPress website for a new look and better features. Stuart maintains the content on his site and I help keep it running smoothly. His store uses Paypal Standard buttons.
Responsive: Yes (Stiking theme)
Client since: 2010 (Previous Site), New Theme 2016
Referred By: Stuart Himself – this is repeat business
I don't know how long it's been since I looked at our website, but DAMN! it has improved immensely! Somebody or somebodies have done an awful lot of work to put together a very nice setup. Please send on my compliments to whomever is responsible for all the info and pictures. They did a great job and it is quite easy to navigate.

CarpetsPlus Wisconsin